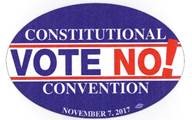 NYSPFFA Leaders Expect to Mobilize 18,000 Members to Defeat November Ballot Question
New York State's Fire Fighters, a statewide organization representing career fire fighters in more than 100 cities and towns, has announced its opposition to a proposed state constitutional convention and has pledged to engage its membership in a campaign to defeat the proposal.
Sam Fresina, president of the New York State Professional Fire Fighters Association (NYSPFFA) is coordinating the campaign opposing the constitutional convention – an event fire fighters across the state believe is unnecessary and risky.
"In many ways, a constitutional convention is an extreme maneuver to impose a second layer of government that seeks to over-ride the checks and balances that were framed by our founders," he said.
"I have never confused dialogue with dissent – and there are many issues being vigorously debated every day at the state Capitol and in communities across the state –– however, we cannot allow extreme voices, and those with unlimited resources to drive an agenda that compromises our principles and values," Fresina continued.
"The state constitution protects every New Yorker from discrimination; it ensures a sound basic education for our children; creates a safety net for those who are sick or ill and protects our natural resources. Our Bill of Rights protects the ability to collectively bargain, and provides that the retirement benefits we have earned are neither raided, nor altered. We cannot and will not allow these rights and protections to be compromised."
The NYSPFFA is recognized as among New York's most respected voices and is a leader in its labor community.
Fresina concluded, "The women and men who report to fire houses across the state will go anywhere, anytime to respond to those in need. That responsibility does not fade at the end of a shift, and they are ready to respond to the needs of this state when its core values are threatened or imperiled."